Have you ever felt stuck in your life, longing for a change but unsure where to start? Leon Logothetis was exactly in the same spot a few years back. As a former broker in the city of London, he had a life that seemed perfect from the outside, but inside, he felt lost, depressed, and anxious. Everything changed when he stumbled upon a movie called The Motorcycle Diaries. The film follows a man traveling around South America relying on kindness, which sparked something in Leon. He quit his job and set out on a journey of his own, determined to see if he could survive by relying solely on the kindness of strangers.
With nothing but his beat-up Beetle, a few articles of clothing, and a lot of courage, Leon hitchhiked across America from Times Square to the Hollywood sign. And thus began his incredible journey as a global adventurer, host of the popular Netflix & Discovery+ series The Kindness Diaries, motivational speaker, and best-selling author. His work has been featured on Good Morning America, Rachel Ray, Tamron Hall Show, and New York Times. He has traveled to over 100 countries with nothing but his beat-up Beetle, a few articles of clothing, and the generosity of strangers.
In his latest book, Go Be Brave, Leon shares his incredible experiences and teaches children and teens how to become braver, more deeply connected humans. He knows firsthand the transformative power of relying on the kindness of others, and he wants to share that with the world. Through his travels, Leon has learned that kindness is a universal language that can bridge any gap no matter where you go or who you meet. And he wants to show parents and children how to use that kindness to overcome fear, anxiety, and uncertainty in their lives.
After years of traveling, Leon again descended into a path of desolation. However, fate intervened when he spotted a homeless man holding a sign that read, "Kindness is the best medicine." This inspired him to quit his job and embark on a new adventure riding a vintage Ella motorbike. However, this time around, Leon decided to do something different. He would surprise unsuspecting Good Samaritans with life-changing gifts along the way. One such act of kindness was captured on film and picked up by Netflix, leading to the creation of his show. In season two, Leon traveled from Alaska to Argentina in a 50-year-old beetle with no money or food, experiencing the harsh winter in both locations.
However, the Covid-19 pandemic of 2020 brought Leon's travels to a halt, giving him time to reflect. During this time, Leon had another epiphany and realized that living a magnificent life requires bravery, which means speaking our truth and carrying our pain while standing in our power. "Whilst I was doing nothing but watching Netflix in my house, I had another epiphany. Believe it or not, I didn't quit my job again," he laughs. "But I began to wonder, how do people end up living magnificent lives? I realized that it is done through being brave." Leon's personal experience with bullying and mental health struggles inspired him to embark on a mission to teach children and teens how to build confidence and stand up to bullying. His new book, Go Be Brave, aims to start a movement to combat hate in school hallways and social media channels.
Leon's travels across America and beyond taught him that relying solely on kindness was not enough to achieve his goals. Instead, he needed to create a compelling story that people could be a part of, which led him to pick the motorbike and the Beetle as characters in his journey of self-discovery. Through his experience, Leon offers a roadmap for young people to build confidence and navigate the challenges of the modern world. His story shows us that true bravery lies not in physical strength or external achievements but in speaking our truth and showing our vulnerability.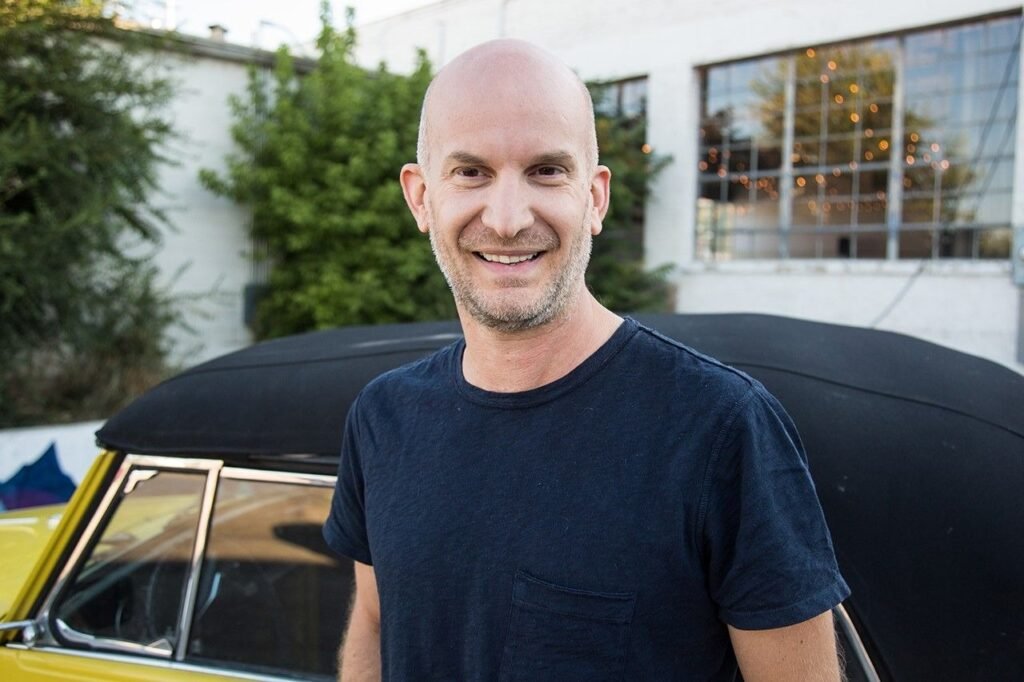 (Photo Credit: BYU TV)
Leon's book "Go Be Brave" is a call to action for readers to leave their comfort zones and explore the world around them. He believes that we often become too comfortable in our daily routines, limiting our potential for growth and change. Leon encourages readers to embrace new experiences and take risks to break free from these limitations. Through personal anecdotes and exercises, "Go Be Brave" provides a roadmap for readers to explore their full potential. Leon emphasizes connecting with nature, challenging ourselves, and speaking our truths. He believes that by doing so, we can unlock the power within ourselves to become truly magnificent.
Leon's philosophy is grounded in the idea that we must be present at the moment and embrace our feelings to make meaningful changes. He reminds readers that small acts of kindness and bravery can profoundly impact others and ourselves. "Go Be Brave" offers readers 24 and 3/4 new adventures designed to challenge and inspire. Whether traveling to a new place or trying a new hobby, Leon encourages readers to step out of their comfort zones and experience the world differently.
His new book is now available for pre-order and will be released worldwide on April 25th. Leon will also be appearing at Barnes and Noble in L.A. at the Grove in June, where he'll no doubt inspire even more people to go out and be brave in their own lives.
Check his website for dates and times https://www.leonlogothetis.com/