In a thrilling turn of events, the highly anticipated Sublime feature film has found its guiding lights in the form of award-winning producer Randy Dies, talented actor Teon Kelley (known for his memorable role in "Bitchass"), and Alfie Sykes from the famed show "Hollyoaks." Sublime is an action thriller combining corporate greed and political influence wrapped up within the world of the billion dollar a year energy drink industry. Articles have called it an uncharted movie thriller attacking a genre that has never been tackled before.

Visionary Producer Randy Dies, is set to take the Helm of Sublime, his name is synonymous with cinematic brilliance. With a string of awards highlighting his career, Dies is renowned for his ability to breathe life into scripts, transforming mere words into unforgettable visual experiences. His reputation for choosing projects that push the boundaries of creativity and storytelling excellence precedes him, making him the perfect match for Sublime. Dies has enlisted Mark Schmidt to Direct the film. Schmidt has several webseries and started his own VFX company. Schmidt has been mentoring under Dies for several years at Dies's studio, Silverwing Entertainment. Dies recently put Schmidt in-charge of Hopping Mad Media, which is Silverwing's new UK division.

Adding visual splendor to this cinematic endeavor is the immensely talented cinematographer Alex Chorley, who will be lead Cinematographer on the project. Alex Chorley is a true virtuoso in the art of visual storytelling. His exceptional skills have not only earned him a myriad of accolades but have also enchanted audiences worldwide. With a keen eye for detail and a profound understanding of the intricacies of light and composition, Chorley, has an impressive track record of 120 first-place awards including an astounding 23 gold medals at the prestigious Sydney Eisteddfod film festival. He brings an unparalleled level of expertise to the production. Chorley recently finished filming a period piece in Austria and will make Sublime his next project.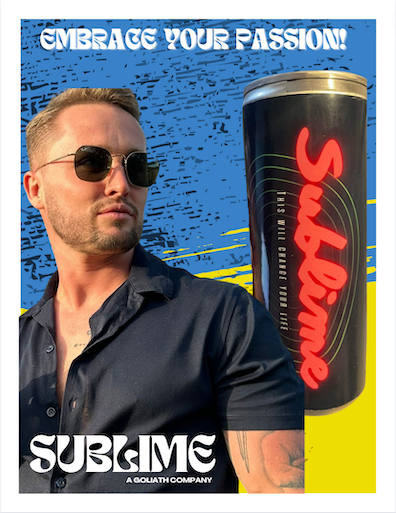 The project also includes a stellar cast including actors from both sides of the Atlantic featuring the charismatic Teon Kelley, who won best actor winner at the Florence Film Festival. His previous work includes the celebrated serial killer movie "Bitchass" which is now in theaters throughout the US and UK, it can also be seen on Showtime and Paramount+. The film also won best horror film at the prestigious South-by-Southwest film festival. Variety and Deadline magazines both called Kelley the next generation of Black Hollywood actors. Joining him is Alfie Sykes, a seasoned UK actor who has been called the British Zac Efron, Sykes is celebrated for his much beloved and fan favorite role as Jason Roscoe in the popular television series "Hollyoaks. Sykes recently made headlines when he signed a major deal with Particle for Men to be the face of the company. Much media has swirled around Sykes regarding this project as it will be the first time he will play a villain on screen.

The movie's ensemble cast is nothing short of extraordinary. Kelley and Sykes will be joined by James MacKay who just finished starring in the stage play Bones at the Park Theater in London. MacKay has also performed in Camelot at the famous London Palladium. In a recent interview MacKay said he performed on stage at the Palladium when Dame Judy Dench was in the audience. Ethic Dejaun has also been attached to the cast, Dejaun is a 6 time US World Karate Champion and was recently inducted into the US Martial Arts Hall of Fame. Dejaun will also grace the screens in the upcoming Hollywood biofilm Regan playing opposite David Henrie (Met Your Mother, Wizards of Waverly Place) who plays US President Ronald Regan in the film. Dejaun will play Reagan's best friend Sal in the biofilm. Additional cast include Lamin Tamba (Star Wars Episode VIII: The Last Jedi), he played Mercer in the Tom Cruise (Top Gun) film Edge of Tomorrow and Johnson in the Dylan O'Brien (Maze Runner) Fim American Assassin. Seasoned actor Guy Mayfield also joins the cast as well; he played Olivia Wilde's (Babylon, Tron) Brother and Chris Hemsworth (Thor, Extraction) Brother-in-Law in producer Ron Howard's (Tetris,Julia) film Rush. Together, we are sure this cast will deliver impactful performances that are sure to leave an indelible mark on audiences.

As the production gears up for principal filming, in the picturesque UK town of Okehampton, which is set to become the canvas upon which this cinematic masterpiece will unfold. With its charming landscapes and rich historical ambiance, Okehampton provides an ideal backdrop for a film that promises to be visually stunning. The production has met with the city council and we hear that the town is very excited to host the film and the stars.

With the combined talents of Randy Dies, Teon Kelley, Alfie Sykes, Alex Chorley as well as a strong supporting cast, Sublime is poised to be a groundbreaking cinematic experience. The collaboration of these exceptional artists not only excites fans, but also raises the bar for what is possible in the world of cinema and aims to expand story plots into genres that have never been explored in cinema.

The film production company has already been inundated with requests for the fictional Sublime cans and production has done an advertising campaign for the film in the unique way, by creating ads as if Sublime was a real energy drink. Their ad campaigns of "We Are We", "Have a Sublime Day" and "Embrace Your Passion" have created interest from many energy drink enthusiasts.

With production not even started yet, it was recently announced at the Close film festival that Sublime was given their prestigious award for "Best Screenplay". Principle production commences in Mid-November, anticipation for Sublime continues to build, and film enthusiasts worldwide eagerly await when they can witness the magic unfold on the silver screen.