This NFT community makes noise with genuine utility and high-end items backed by smart contracts and NFT components.
Diamonds are forever, and Amsterdam Diamond Club is on the verge of redefining this idea with a digital identity often referred to as its "digital twin" and proof of ownership. It is a unique Non-Fungible Token (NFT) luxury diamond company that allows people to buy and sell diamonds uniquely based on the store-of-value asset function. Let us scratch the surface and get to know more about it.
Amsterdam Diamond Club
Amsterdam Diamond Club is a famous blockchain-based diamond NFT company based in Amsterdam. Founded and led by distinguished tech enthusiasts and diamond experts, it offers a unique collection of NFT diamonds with natural 1-1 physical 1-1 Diamonds. The club has gained immense fame and prominence within the global NFT space and is still making rounds on the internet. Today, Amsterdam Diamond Club is the one-stop-shop for high-rollers interested in buying and owning unique NFTs. From those who want to make collections to all those who want to make safe and rewarding investments, there is nothing better than buying these exclusively made NFT diamonds.
The Idea & Inspiration
The core idea behind this is to offer NFT diamonds backed by the ERC-1155 (Non-Fungible Token) standard with their 1-1 physical pieces to be used by the owners in the real world. Along with that, easing the process of buying and owning these precious stones is the biggest inspiration for Amsterdam Diamond Club. According to the creators, diamonds are already unique. Keeping this unique proposition in mind, they have worked on the idea to allow capturing the unique physical identity of any diamond into an NFT. All the diamonds offered by this unique tech-inspired diamond company are stored in insured vaults in Antwerp and Amsterdam. This already adds an exclusive layer of security and credibility to the source. In addition, owning them on today's most secure blockchain platform adds another layer of security and trust.
Latest Collections
The latest collection of Amsterdam Diamond Club NFTs is available on opensea.io and other cryptocurrency exchanges that work with the ERC-1155 (Non-Fungible Token) standard. For now, there is a limited variety, but the marketplace is expected to have more unique options in the future. This unique and special collaboration includes a super rare 18K yellow gold ring. With a Center Stone of 3.63Ct in a brilliant pear shape and 16 Side Stones 0.48Ct.(VVS-VS) Next to this stunning ring that turned into an NFT on the blockchain, there is a range of different distinguished types of stones already available, like the Rare Fancy Intense Green Diamond and multiple exclusive colorless rounds of brilliant diamonds with varying properties.
Process and Benefits
The process of getting these diamonds is pretty easy for everyone. Once the buyer successfully makes the purchase, Amsterdam Diamond Club immediately engages in its production. It makes sure to put insurance on it and deliver it timely to the owner. These diamonds come with a GIA certificate of the Gemstone Institute and IGI or HDR, which simplifies unique elements like the 4 C's. Diamonds are not uncommon but expensive as well, and that's precisely where many questions arise when it comes to buying them in a fully digital and online environment. Amsterdam Diamond Club has already solved everything for those who have no idea about it by utilizing the ERC-1155 (Non-Fungible Token) standard.
Any NFT Diamond available on a marketplace has a secure identity that's indelible, discretely different, traceable, and connected to a single token which means it is particularly unique worldwide. Plus, everyone with access to the blockchain can easily see and verify its actual owner. The customer gets complete ownership of it and reaps maximum benefits of owning it backed by the idea of the store-of-value asset. According to this idea, the physical diamond cannot be sold alone, which means whenever someone buys it, the owner will transfer the rights of the NFT Diamond to the buyer. This also brings the autonomy and convenience of keeping the asset accessible through digital wallets.
In addition to those various benefits of NFT diamonds, having a unique digital identity for the diamond, getting digital ownership on the blockchain, and having a 100% unique NFT Amsterdam Diamond Club collectible are worth mentioning.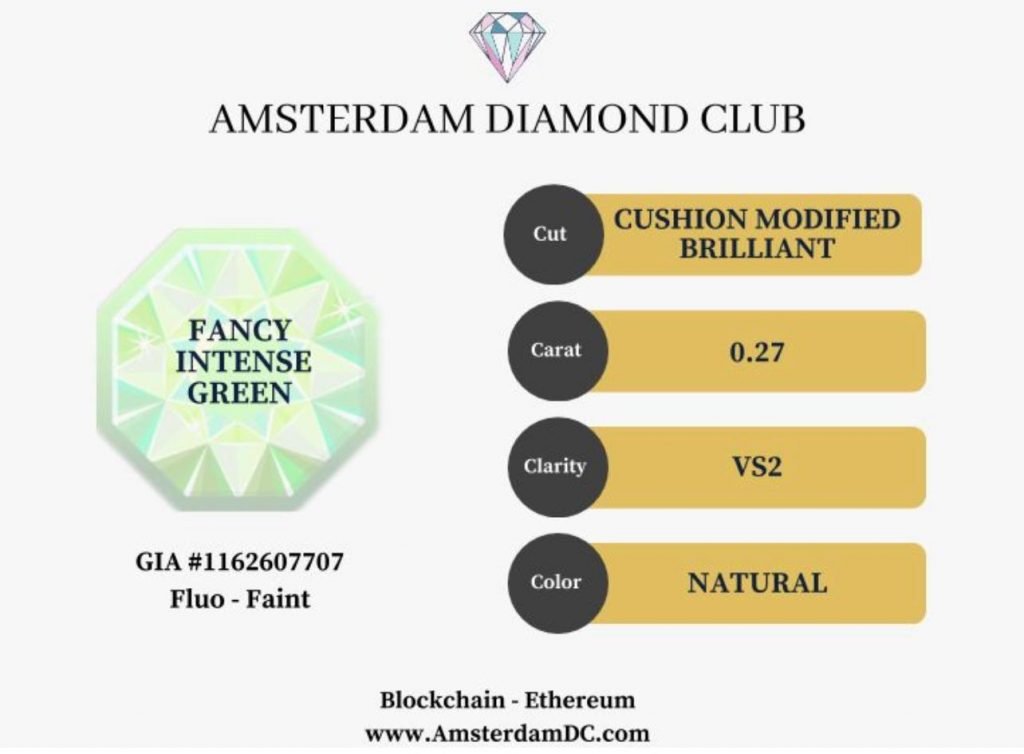 The Future
While looking at the untiring efforts invested by the team of Amsterdam Diamond Club, it is expected that there is a thriving and rewarding future for them. In addition, the unprecedented pace at which blockchain technology progresses further strengthens the premise into an actual logic. When diving into the world of NFTs, there are only a few creative-minded and futuristic people within the industry who believe in this whole new domain of technology. From media and entertainment to fashion and lifestyle, the global NFT industry has given new dynamics to almost every segment, and this time it is all about natural blockchain diamonds.
Key Takeaways
By working on this unique idea, creating a real opportunity for everyone, and introducing an exclusive collection of NFT diamonds, Amsterdam Diamond Club is now at the heart of merging science and technology with real-life things like diamonds. In addition, their initiative will allow people to explore more ways to purchase and own their valuable assets while on the go. All this has become possible due to modern technologies like blockchain, cryptocurrency, etc. With the advent of such technological leaps and enthusiasts who are part of the Amsterdam Diamond Club, it is undeniably true that there is much more to emerge within the industry. This includes a fast-paced growth and earnings criteria and a new approach to discovering, exploring, buying, and even selling natural diamonds with a digital twin identity and proof of ownership. So, it can be concluded that the industry will soon impact the global diamond industry with its unique concept and idea.
Follow their journey and company
https://amsterdamdc.com/
Published by Alex Mamutin X Branded Book
www.brandedbook.com
@thebrandedbook @nft_book @nftsavage
https://www.instagram.com/kosherelmo/