That was the first question we asked Skelly. But before we get to his answer, let's talk about the man behind the mask. California grown and LA local, Skelly was born in a different time not so different.
The early 90s in LA was a beautiful time of eccentric fashions, classic films, iconic music, and fighting against police brutality and state sanctioned violence. For Skelly, whose Grandfather, John, marched with Dr. King, standing up for civil rights has been a multigenerational activity.
"For me fashion, music, film and art have always inspired and given me and all my friends a voice and a platform. Especially in America, more often than not, without the communities most marginalized by systemic racism and climate change we would not have American culture. Dapper Dan of Harlem is the forefather of the direction of current Haute Couture Trends, and my biggest inspiration. Without people like Dap, we wouldn't have these sneaker customizers like my good friend Dom aka the Shoe Surgeon, Louis Vuitton might still just be making luggage, and respect and credit needs to be given and is well overdue, preferably in the form of access and monetary compensation. We pay royalties in music, we should probably make that happen across all art forms."
Skelly was born at Centinela Hospital in Inglewood (in the hallway) across the street at the Forum, during a Lakers game in '94. He was quite adamant that he bleeds purple and gold, and that Kobe Bean is his Jesus. Skelly then detailed spending his adolescence in the Bay Area being lovingly bullied by his Warrior rooting friends for his love of the Lake Show and finally finding common ground with agreeing on how fire Baron Davis' game was at the time. Anyone remember that dunk on Andrei Kirilenko btw? Sheesh (We're still hot about that T).
Skelly is many many things. Lifelong musician and former DJ turned producer and MC, Instagram Sneakerhead personality, Artist, Photographer, Financial analyst, Marketing Consultant, Streetwear Designer, Tailor, Chef, Student, ex-Pot Farmer, Teacher, Lover, Hater, CEO, entrepreneur, Data Scientist, HUSTLER, son, brother, Collector, food critic, Purveyor of Luxury Goods, Internationally Awarded Packaging Designer, Philanthropist, Good food eater and mostly, an ART[ist]: a lively eccentric human who is quite literally a Jack of All Things Creative.
Currently Skelly is working on two personal passion projects in addition to running his creative agency, EL.SKEL ENTERPRISES. The first project he says, is still in the inception stage and is a new music project he flatly refused to go into detail about. (We think he's either sitting on Gold or has nothing but only time will tell). The second, is the up and coming LA fashion house, Maison de Une de Une. And what he told us about his brand got us inspired, intrigued, and ready to spend big for a good cause.
"Collection-based, M.de Une de Une focuses on creating and curating Objects of VALUE for impact. We juxtapose art alongside rare sneakers and fine luxury streetwear essentials. A space for film, music, fashion, and art to be celebrated and facilitated together.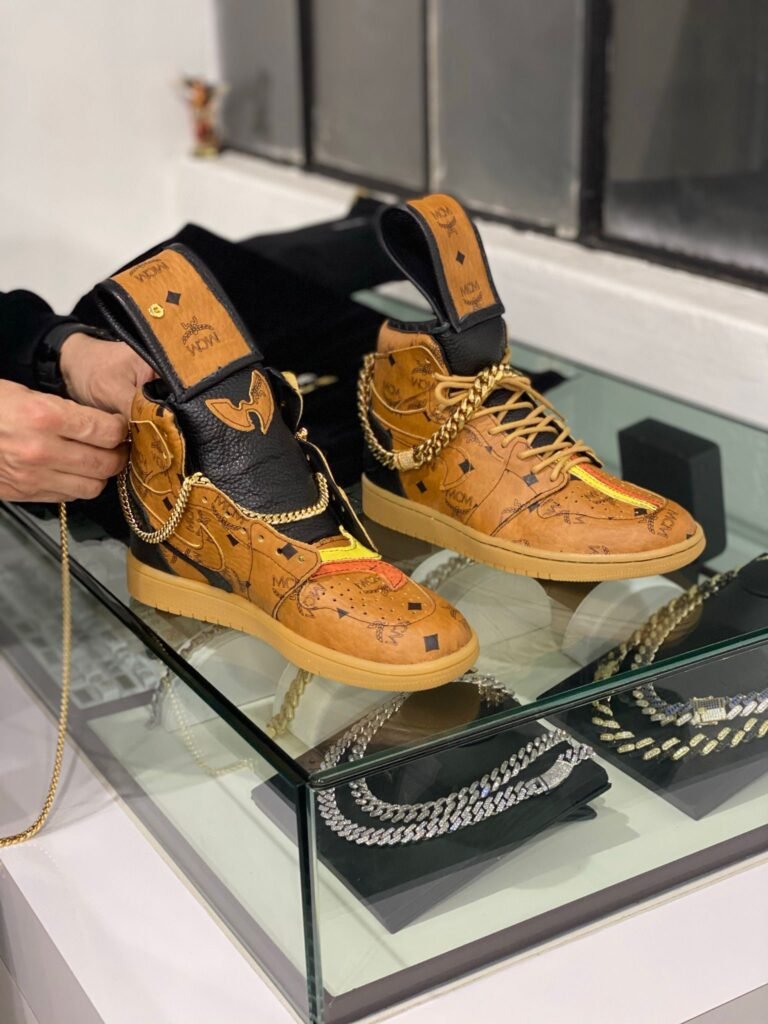 They are COLLABORATION-focused with artists and their audiences to give them a voice and platform. Auctioned for the benefit of those communities who need uplifting. These are extremely LIMITED pieces and the proceeds are donated to COMMUNITIES made invisible by the systemic social justice and environmental-climate issues we face today.
All materials are sourced in small batches from fair-trade local vendors in Los Angeles, and each piece is manufactured by hand there. All objects of value are designed and created by masters of their respective arts. Fashion pieces are made to order with the art and are only made once in the size requested. Never again. No scale, no supply, only demand, and absolute rarity. For serious collectors only.
Each Collection in 3 Parts, is Film Referred. These collections are made available to the public via periodic residencies in renowned art galleries and museum spaces.
They consist of:
(1). LARGE ART OBJECT (2). 1/1 SHOE FASHIONS (3). UNIQUE HAUTE COUTURE GARMENTS
In addition to their own creations, M. de Une de Une stocks an eclectic variety of similar brands for ANY + ALL styling needs." And so that brings us back to why LA?
Here is Skelly's explanation.
"This place is the only place in the world I've felt at home. People always asked me the question why LA it's so dirty? The funny thing is that is also my answer. It's so dirty. It's so proper. Mix the high with the low, life and death, love and hate it's all in your face. I've lived just about everywhere in California and even lived in Vietnam for three months when I was DJing. I've spent time in almost every state in this country and besides my people in New York, nowhere loves me like LA loves me and I got mad love for it. This pretty little city of angels has absolutely everything, and as a late night food aficionado (and being born right here), I wouldn't have it any other way. Everyone here is trying to do something great with themselves in the fashion and music game and it's crazy inspiring. People talk a lot of sh*% about LA and Hollywood culture but it gives the world hope. That's why I'm here and probably why you are too. The dirt, the grime, the love, the hate, the real baller ish and the dollar tacos. Everything is connected with everything, and I wanna see my baby LA shining again."
And after that answer he has us thinking why not, LA?
You can find Skelly and Maison de Une de Une on Social Media here:
Skelly◾️ (@skelly_chief) • Instagram