When the word "social media" comes to mind, there are likely a few major platforms that dominate the average individual's classification of what these applications provide for their users. The year 2020 and the emergence of the COVID-19 pandemic has changed not only the way we socialize in the real-world, but has also impacted the way individuals behave on these notable social media platforms. With the reality of the pandemic limiting experiences and forcing dramatic lifestyle changes, many of our favourite social media platforms have turned into social lifelines and ways to get new information about current events rather than boastful outlets to display life's greatest moments. Social distancing has also become commonplace in many communities, and the very way we interact and participate in meaningful conversations has fallen to an all-time low. Nevertheless, a Toronto-based tech start-up Cast App has found a way to adapt to these changes and encourage meaningful debates to recreate and revive the communities suffering from social isolation.
Cast is an anonymous social voting platform that aims to remove the friction to participate in online conversations. With the objective of assembly of the public opinion, Cast is on a mission to provide people with a social media platform where users can be honest, authentic, and curious about their opinions– without facing undesired differing judgements and scrutiny from other users.
"One thing that brings people together is shared experiences, all of a sudden we all have a shared experience", Karen North, a clinical professor of digital social media at the University of Southern California told Recode Magazine. Topics such as the pandemic have sparked great debate among communities, however, the sad reality is many individuals resist the desire to speak out in fear of public ridicule. In a world where differing opinions are stifled rather than celebrated and herd mentality is the norm, the team at Cast knew that a unique social media platform was needed to counter this problem. Engineering a system of anonymous votes and instant polling results, Cast successfully provides their users the safety and freedom to voice their true feelings on meaningful topics. Cast is hoping to help shift the narrative taking place on social media – to make it a more inclusive and enlightening experience and to spark thoughtful debate with quick and transparent access to what the public really thinks.
We took the time to speak with George Boutsalis, Cast Co-Founder and CEO, to dive deeper into the changing landscape of social media and how Cast App offers a solution for individuals to freely express their opinions.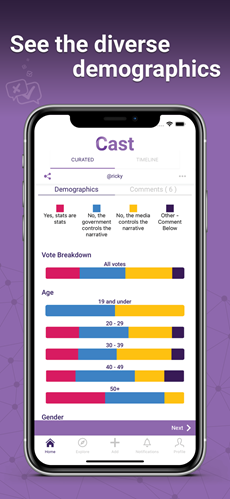 How have other emerging social media platforms such as Clubhouse help pave the way for Cast to encourage meaningful discussions?
Similar to other social media platforms, Clubhouse has proven people are continuously looking for new and better ways to communicate online. People are also looking for platforms where they can easily consume tidbits of information and learn things while passing time. However, current platforms have increasingly become a tool to talk to people instead of with them. By definition, a one-sided conversation is not a conversation at all. Cast is a platform that encourages active participation and removes the barriers to enter the conversation. There is no invitation to join and there is no stage to perform on. By eliminating the friction points and creating a safe space to share your POV, we provide an opportunity for all voices to be heard. In turn, the greater amount of participation results in an accurate representation of what the masses truly think. With this, we hope comes greater acceptance of differing views and greater opportunity to create positive change on social media and beyond.
Many criticize social media as time not well spent, how has Cast transformed social media to a platform that is in fact beneficial to its users?
Cast promotes an "ask-first" approach to social media to encourage users to think for themselves and reduce assumptions: positive actions which should be applied by everyone, every day. We think people should formulate their own, unique and uninfluenced opinions based on how they individually feel and not how society suggests they should feel. This is why Cast shows the results, demographics and comments after voting. Instead of passive consumption, aimlessly scrolling, liking for the sake of liking or agreeing with the loudest voice in the room, Cast promotes critical thinking, celebrates individual perspectives and is a platform where users can continuously learn about themselves and their peers on a range of topics.
How do the unique features of Cast ensure users remain anonymous and feel comfortable to express their private opinions on a public platform?
We are building a platform where all voices are part of the conversation to gain an accurate reflection of the masses. In order to do this, we want to make sure our users feel safe expressing their true opinions and therefore, we've made all user's votes 100% anonymous. No one will know how a user voted unless they decide to share that information themselves. While votes are anonymous, it's important to note that comments are tied to usernames. This is done to discourage the use of blind attacks, hurtful comments or harmful language. We understand people can use a pseudonym or alias to maintain complete anonymity, but we encourage users to not hide behind their screen and stand by their opinions and comments. The ultimate goal of Cast is to break down the barrier to enter social conversations, allow users to voice their honest opinions and make it acceptable to hear opposing views. Another way we provide comfort is by giving users access to demographic cohort data. Being able to visually see differing opinions is another way to spread awareness and show how diverse our population is. Whether you voted with the majority or minority, every opinion matters.