Why wait for the holiday season to get excited over something new? Eighty Six Brand comes bearing gifts in the form of Delta-8 THC, a hot and newly-discovered minor cannabinoid that allows you to get high legally without a prescription or even needing to set foot in a dispensary!
What Is Delta-8 and How Is It Different from Delta-9 THC?
Whether you're new to the world of cannabis or a seasoned veteran, you've probably heard the terms Delta-9 THC and CBD before, but have you heard of Delta-8 THC?
Delta-8 THC, Delta-9 THC, and CBD are all cannabinoids, derivatives of the cannabis plant. These cannabinoids react with the body's natural endocannabinoid system, which is responsible for modulating various bodily functions, including sleep, appetite, pain and inflammation, stress, and hormones.
CBD, or cannabidiol, for example, is known primarily for its positive impacts on wellness and minimal side effects. Delta-9 THC, or tetrahydrocannabinol, is known for its appetite stimulation and psychoactive effects. Hemp-derived Delta-8 THC combines the best of both worlds, providing an energizing high while keeping your mind clear and in control.
Unlike traditional Delta-9 THC products, where you need to either live in a state that legalizes cannabis recreationally or apply for a medical prescription, Delta-8 THC's legality allows you to purchase its respective products in most states. The 2018 Farm Bill states that all hemp derivatives are federally legal to produce and distribute so long as their Delta-9 THC content does not exceed 0.3 percent on a dry weight basis. While state governments can exercise the right to regulate as they see fit, this opens the floodgates for national accessibility for Delta-8 THC products.
Enjoying Delta-8 THC in the Best Way Possible
So how would one enjoy a Delta-8 THC-infused product? For starters, you can either vape it, thanks to Eighty Six Brand's Delta-8 Vape Cartridge Collection, or you can ingest it with the delicious Delta-8 Gummies Collection. Both collections are designed to revolutionize the user experience and bring some much-needed love to the newest cannabinoid to hit the shelves.
Exploring Eighty Six Brand's Vape Cartridges Collection
Originally blasting out of the gates during the tail-end of 2020, Eighty Six Brand delivers five well-known and distinct strains with a twist! In this case, that twist is the inclusion of food-grade terpenes designed to mask the earthy taste of distillate while elevating the entire experience for the user.

For example, one of the most popular strains is Fruity Pebbles OG, a classic indica known for its physical relaxation properties. Eighty Six Brand takes that experience one step further by adding a complex flavor profile that's reminiscent of a bowl of Fruity Pebbles cereal topped with milk.
And Eighty Six Brand doesn't stop at flavors either; the entire vaping experience blows the competition out of the water thanks to authentic CCELL® cartridges. Well-known in the electronic cigarette industry as the gold standard of vaping technology, CCELL® cartridges deliver a virtually leak-free vaping experience that maximizes flavor with each and every cartridge.
Speaking in the most unbiased way possible, these vape cartridges are spot-on! Complex flavors, powerful distillate, and high-quality CCELL® cartridges accentuate the experience tenfold! For more information, be sure to check out the entire selection of Eighty Six vape cartridge flavors.
Try the Deliciously Potent Delta-8 Gummies Collection
Following the massively positive reception of the original round of products, Eighty Six Brand delivers another flavorful punch with its Delta-8 Gummies Collection. Instead of taking on the names of strains, these potent, mouth-watering Eighty Six Brand Delta-8 Gummies boast four incredible flavors, each better than the last.
Apple Jade Delta-8 Gummies
An apple a day to keep the bad vibes at bay —  that's the saying, right? Apple Jade is a bunch of sweet and crisp green apples here to deliver your daily dose of Delta-8 goodness.
Citrus Blast Delta-8 Gummies
Who says citrus fruits are only confined to a light breakfast snack? Citrus Blast smacks you with overtones of juicy grapefruit slices complete with subtle notes of citrus zest.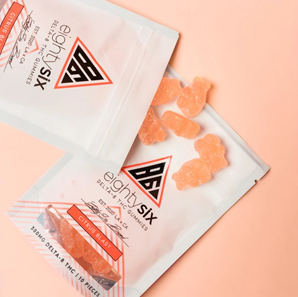 Midnight Melon Delta-8 Gummies
Is it watermelon or blue raspberry? Why not both! Midnight Melon keeps things interesting by fusing everything you love about the Summer-loving watermelon slices with tangy blue raspberries.
Orange Bang Delta-8 Gummies
What better way to enjoy a fruit and cream delight than with Orange Bang? Sweet navel oranges topped with a light and subtle finish are what's waiting for you!
How To Enjoy Delta-8 Gummies
It is worth noting that, unlike vape cartridges that can be puffed away whenever you feel like it to bring on a light and short-lived buzz, Delta-8 edibles are very similar to your traditional Delta-9 edibles. Standing at 30MG of Delta-8 THC per gummy, for a combined total of 300MG per bag, this is A LOT of Delta-8 to consume in one sitting. So please exercise control and start out with half to one gummy, and give it a few hours before taking more.
With all that said, we hope this guide was as informative as it was entertaining. If you're interested in taking the first step to introduce Delta-8 THC into your daily routine, check out Eighty Six Brand and its vast collection of potent and pure Delta-8 THC products.